The rinsing tanks are a part of the electroplating lines and intended for rinsing of treated parts from working solutions before the next process operation. The wide range of designs of the rinsing tanks is due to the following factors:
Adopted rinsing method: submersible, aerosol, jet or combined.
Temperature conditions of rinsing.
Adopted rinsing scheme for this process operation.
Characteristics of the rinsing solution, etc.
Regardless of the intended use and design, Poliplast's rinsing tanks for parts meet the safety requirements, are durable and convenient to operate and maintain.
Design and operation specific features of the rinsing tanks
The tanks for rinsing of treated parts are classified by the cleaning method as follows:
Flow rinsing tanks;
Trapping tanks (non-flow rinsing);
Depending on the temperature of the rinsing water, there are tanks for cold, warm (water temperature + 40 ... + 60°C) and hot rinsing (water temperature more than + 60 °C);
According to the number of rinsing stages, there are one and two or more stage rinsings.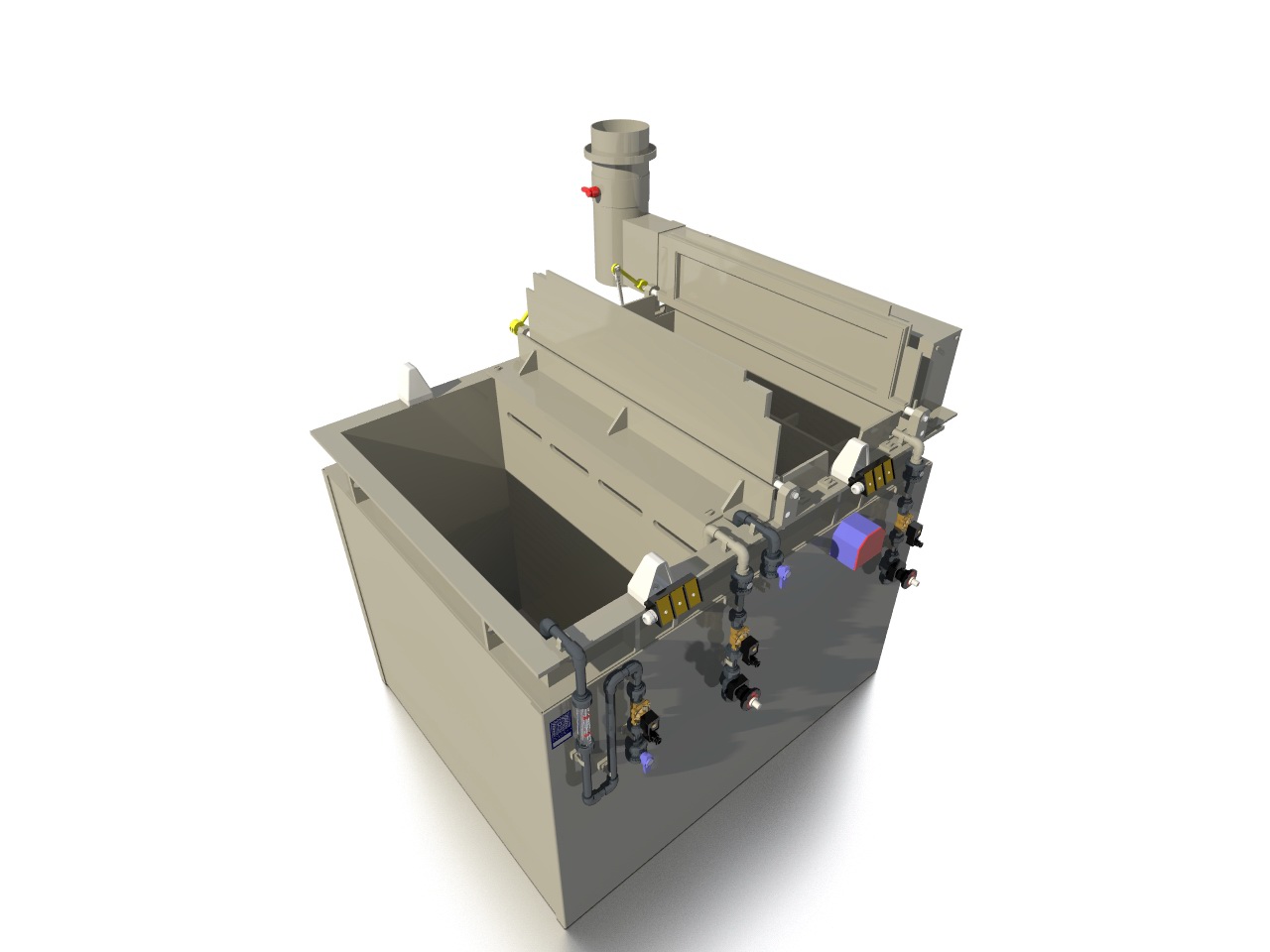 Overview 360°
The trapping tanks are used after tanks with toxic or valuable components. They enable to reduce the consumption of solution components subject to the use of water from the trapping tanks: for replenishment of the solution in the working tanks, for preparation and correction of the solutions in chemical and electrochemical treatment tanks.
The warm rinsing tanks are used to improve the parts rinsing quality, for example, after degreasing, chromating and chemical oxidation operations.
The hot rinsing tanks are used, for example, after degreasing and etching in alkaline solutions, before the drying operation.
The use of multistage countercurrent rinsing tanks may significantly reduce the water consumption for rinsing.

Structurally, the rinsing tanks consist of the following assemblies.
The tank body may be made of plastic or stainless steel, depending on the composition of the solution being washed and the temperature of the rinsing water.
In most instances, the rinsing tank is equipped with a drain pipe with shut-off valves.
The flow-through rinsing tanks are equipped with an overflow pocket and an overflow pipe.
The warm and hot rinsing tanks are equipped with heaters, temperature and level control sensors.
Equipping the rinsing tanks with compressed air mixing (bubbling) devices and jet rinsing (showering) devices contributes to improvement of the parts rinsing quality and reduction of water consumption.