Cyanides dissolution unit is equipment for safe unpacking of cyanides and preparation of cyanides solutions. The unit consists of interconnected assemblies, the coordinated operation of which ensures the safety of the circulation of toxic substances, eliminates their influence on the structural elements of the system and reduces the risk of an emergency.
Main assemblies of the cyanides solutions preparation unit
Cyanides are delivered to the production facility in special steel barrels. The system provides for their unpacking and dissolution:
Cyanides dissolution unit. A reservoir with the volume of up to 400 l, equipped with a heater to maintain the water temperature during dissolution of the salts. The reservoir is made of corrosion-resistant steel and equipped with a strong shut-off valve, which eliminates product leakage due to leaky connections. The barrel with salts is loaded into the tank, which is closed with a tight lid. The built-in pressure device presses on the drum, piercing it and ensuring contact of the contents with hot water. Water is supplied from the hot water preparation tank through the filling valve in the amount required to obtain a solution of a given consistency. Owing to the pumping equipment, it circulates inside the system until the salts are completely dissolved.
Hot water preparation reservoir with the volume of up to 1000 l. The structure is made of chemically resistant polypropylene and is protected by an outer layer of thermal insulation to maintain the temperature of the heated liquid. The reservoir is filled with water through a filling valve, after which it is closed and the heating with electric heaters is started. The reservoir is equipped with an automatic temperature maintenance system. The heated liquid is supplied to the dissolution unit using a separate pump.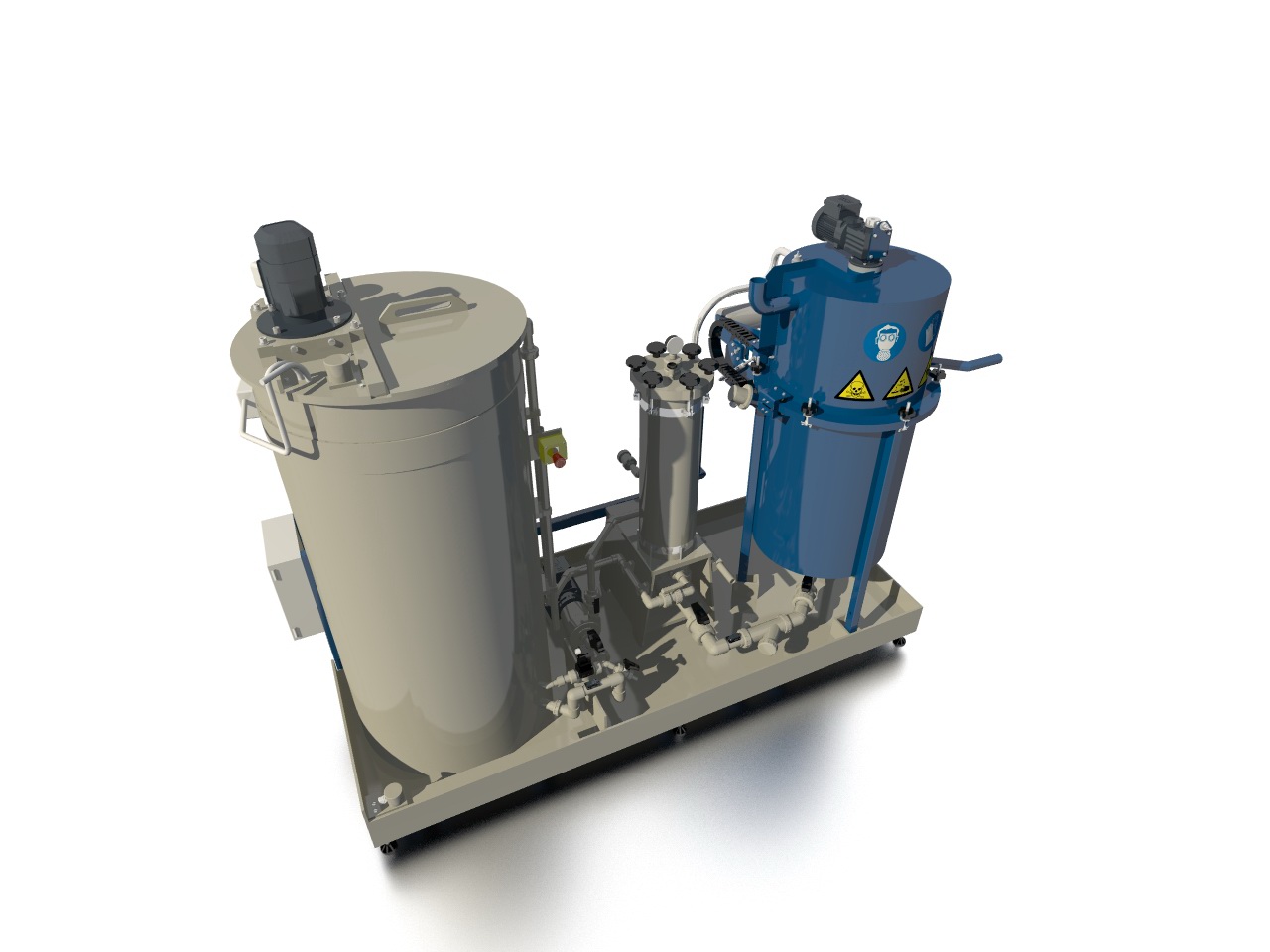 Overview 360°
Tank for cyanides neutralization. It may have the volume of up to 200 l; it is made of polypropylene. The main purpose is to neutralize barrels and working tools from cyanide salts.
Cold water washing tank. It is intended for cleaning of barrels and tools from cyanide salts residues.
Reservoir for a neutralizing solution. It is intended for preparation and storage of a neutralizing solution. It is equipped with a pump for mixing and feeding of the solution and with level and monitoring sensors.
Reservoir for storage of the prepared cyanide salt solution.
Solution withdrawal system - it enables to pump out the finished solution in a portion of the specified volume.
Control panel, where the control and regulation of the equipment is performed. With its help, barrels with cyanides are opened, the pumping equipment is started and turned off, the alarms are activated when the permissible volume of working and auxiliary liquids is exceeded.